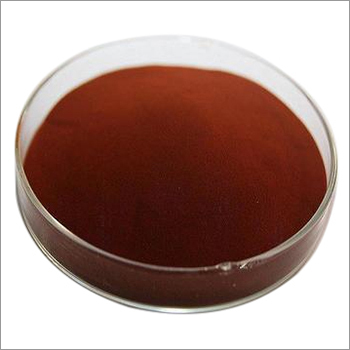 Ferrous FumarateIP/ BP/USP
Ferrous Fumarate BP
We are counted amongst as one of the renowned manufacturers, exporters and suppliers of excellent quality Ferrous Fumarate BP. Offered chemical is precisely processed in conformity with the set industry satndards by make utilization of optimal grade chemical substances with the aid of advanced processing techniques at our well structured processing unit. Our provided chemical is immensely used as a supplement of iron for treating low level in bloods. Besides, our clients can avail this effective Ferrous Fumarate BP in several packaging options and at pocket friendly rates.
Features:
Excellent compatibility with compounds
Better chemical stability
Safe to use
Long shelf life
Technical Specifications
Description

Reddish orange to reddish brown fine powder

Solubility (95%)

Slightly soluble in water, very slightly soluble in ethanol

Identification

Passes the tests for identification (A) & (B) & (C) as prescribed in I.P
Limits: As per I.P

Arsenic

Complies with I.P limit (NMT 5 PPM)

Heavy Metals (Lead)

Complies with I.P limit (NMT 20 PPM)

Ferric Iron

NMT 1% (NMT 2%)

Sulphate

Complies with I.P limit

Loss on drying

NMT 0.3% (NMT 1%)

Assay

NLT 95% OF C4 H2 FeO4 On Dried Basis (NLT 93% & NMT 101%)

Bulk Density

NLT 1.00

Free Iron

Absent
Special advantages of our material
Description - Colour brighter: Resulting to Better / brighter appearance of final formulation product.
Ferric Iron - NMT 1.00: This helps in better absorption / tolerance of final formulation product.
L.O.D. - NMT 0.3%: Resulting to better stability & thus no degradation of product, even on long storage period.
Search Product
Write product name and get full details about the product.